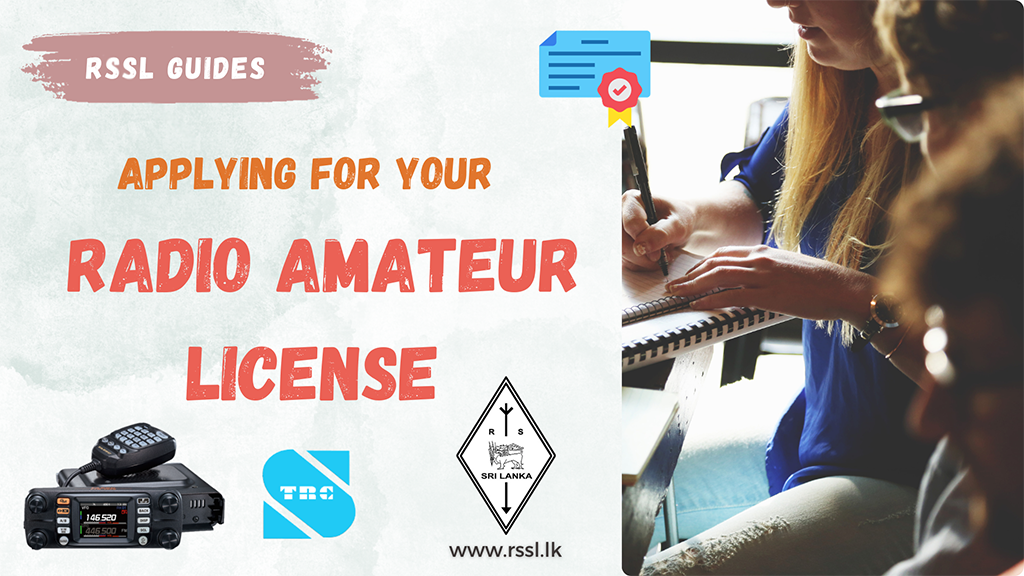 Tags:
Are you ready to apply for your Radio Amateur License in Sri Lanka? Follow these clear steps to ensure a smooth application process:
Step 1: Check Exam Results
If you recently faced the Radio Amateur Examination (Novice/General/Advance), keep an eye out for the results.
Step 2: Upgrading Your License
If you're upgrading your existing license, complete the application for renewal using this form: Local Amateur Application.
Prepare a letter of request addressed to the Director General, TRCSL.
Take your license book, NIC and visit TRCSL.
Meet Ms. G.H.P. Imali Prasanthika, Assistant Director at the Spectrum Management Division, 2nd Floor. She will assist you with the process.
Pay the upgrading fee. Note that you may need to wait briefly while the finance department prepares a voucher.
OR
Send soft copies of the required documents to <

[email protected]

>. Make your request in the email body.
Simultaneously, either hand-deliver hard copies or send them via registered post to TRCSL.
---
Applying for a New License
If you've never held a Radio Amateur License before, you'll need to follow these steps:
Fill out the application form here: Local Amateur Application in triplicate (3 copies).
Complete the MOD clearance form, available here: MOD Clearance Form. Please note that this form is available in Sinhala, but you can fill it out in English.
Prepare a letter of request addressed to the Director General, TRCSL. Don't forget to mention your contact phone number.
Obtain photocopies of both sides of your National Identity Card (NIC).
Prepare three passport-sized photographs (ensure they present you at your best, as your ham license will feature one of these).
Since you're not authorized to possess transmitting equipment yet, you may respond that you will apply once licensed.
Secure two letters of recommendation from two other Radio Amateurs or individuals of good standing (preferably without a criminal record).
Attach a copy of the letter you received from TRCSL stating your exam results.
Send them via registered post to TRCSL.
TRCSL Address:
Telecommunications Regulatory Commission of Sri Lanka,
No. 276, Elvitigala Mawatha,
Colombo 08,
Sri Lanka.
Mention Your NIC No.
In all your correspondence with TRCSL, include your NIC No. It's the first thing MOD/TRCSL checks in their database. Ensure it's accurate, as an incorrect NIC No. can stall your application.
Good Luck!
Best wishes with your application process, and welcome to the world of amateur radio. Remember that you can always visit www.rssl.lk or email <

[email protected]

> if you have any doubts or questions.
Follow these steps, and you'll be on your way to obtaining your Radio Amateur License. Best of luck, and 73!