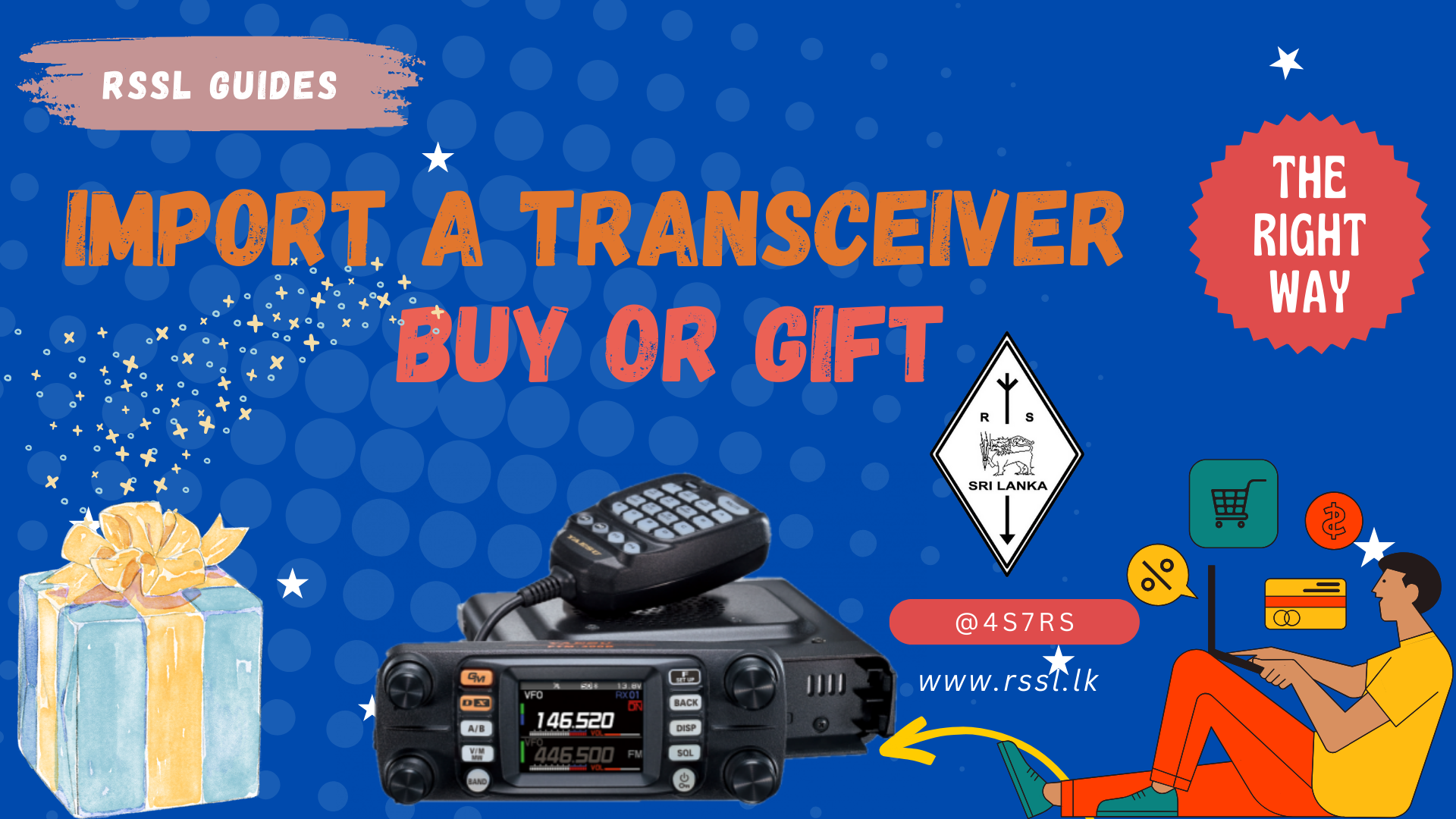 Tags:
Importing a transceiver, whether through a purchase or as a gift, can be a straightforward process if you follow these clear steps:
Step 1: Prepare Your Documents
Gather the necessary documents:
Clear copy of the specifications page of the transceiver.
Proforma Invoice (if buying) or an authentic letter of gift (if receiving).
Copy of your Amateur Radio License including the following

A page showing your current license validity.
 Page displaying your present equipment.

National Identity Card (NIC).
Step 2: Make Copies
Create three sets of copies for each document mentioned above. Keep them separate for clarity.
Step 3: Submit Your Application
Option 1: Hand-Delivery
– Visit the Telecommunications Regulatory Commission of Sri Lanka (TRCSL) and submit the three sets of documents.
– You will receive a registration number.
Option 2: Email for Faster Results
– Send soft copies of the documents to <[email protected]>.
– Simultaneously, either hand-deliver hard copies or send them via registered post to TRCSL.
TRCSL Address:
Telecommunications Regulatory Commission of Sri Lanka,
No. 276, Elvitigala Mawatha,
Colombo 08,
Sri Lanka.
Step 4: Approval Process
– TRCSL forwards your application to the Ministry of Defense (MOD) for approval.
– Once approved, TRCSL will issue three letters: one to you, one to the Controller of Imports and Exports, and one to the Director General of Sri Lanka Customs.
Step 5: Import Control Office
– Head to the Import Control office at Fort Hemas Building, opposite Cargills.
– Request a form from the clerk handling communications equipment.
– In your application, mention the HS CODE: 8517.62.10 (Transmission apparatus with or without reception apparatus).
– Fill in the application, and attach a copy of the TRCSL letter along with the original and a proforma invoice (if applicable).
– If it's a gift, and there's no proforma invoice, you can create one.
– Attach a copy of your NIC.
Additional Notes:
– If someone is representing you, attach their NIC copy and a letter authorizing them.
– Avoid peak days at the Import Control office.
– Pay the import clearance fee.
– Ensure you get your approval before 3 PM, as the payment counter closes at that time.
– You must obtain the permit before the goods arrive to avoid penalties.
Online Application Option:
You can save time by applying for an import control license online at [https://eservices.imexport.gov.lk/login].
Getting the Unit Brought Down
Choose your preferred method to have the transceiver delivered. EMS Speed Post is reliable and has no extra warehouse charges. You can also hand-carry it or ask a friend to bring it for you. If a friend is assisting, obtain a letter from TRCSL authorizing them.
Important Note: 
We strongly discourage smuggling. Follow the legal procedures for a smooth and hassle-free experience.
By adhering to these steps, you can ensure a seamless process for importing your transceiver.